Made in St. Louis: From estate sales and junk to works of art | Lifestyles
4 min read
[ad_1]


By Pat Eby Special to the Post-Dispatch

Thomas Edison once said, "To invent, you need a good imagination and a pile of junk," and those words ring true in the assemblage art Donna Schoeck creates. She uses lucky finds from estate sales such as old keys, rusted hardware, tiny tubes, lengths of chain, pieces of old jewelry, watch parts, clock faces, beads and anything else that strikes her fancy. These disparate elements coalesce in her inventive representational artworks.
"I started making things in 2017," Schoeck says. "I have always enjoyed bike riding. I was on the Katy Trail with friends riding when I saw some art outside the bike shop in Augusta. A picture of a woman on an easel caught my eye. It was just her face. She had beads for hair. Her features were made from goofy stuff and I thought 'That looks cool' so I tried making some big faces."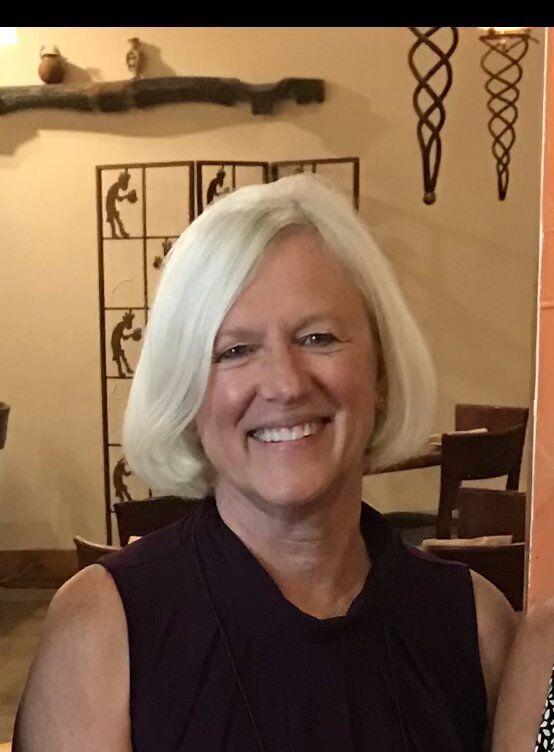 "I wasn't happy with them, but my cousin encouraged me to try different things — like a house or a dog. Then a friend of mine gave me some old jewelry to use. One of the earrings looked so much like a bird's beak, I made a chicken. I liked it, and that got me started."
Getting the goods • My job when I go to an estate sale is to go through the junky garage or basement looking for really cool things. I've found neat old nails, medical tools, springs, hinges — I pick up anything interesting," she says.
Sometimes her friends get into the act. "My sister was on a walk when she looked in the street and found an interesting rusted metal piece," Schoeck says. "I don't even know what it was, but she picked it up and gave it to me and I actually used it."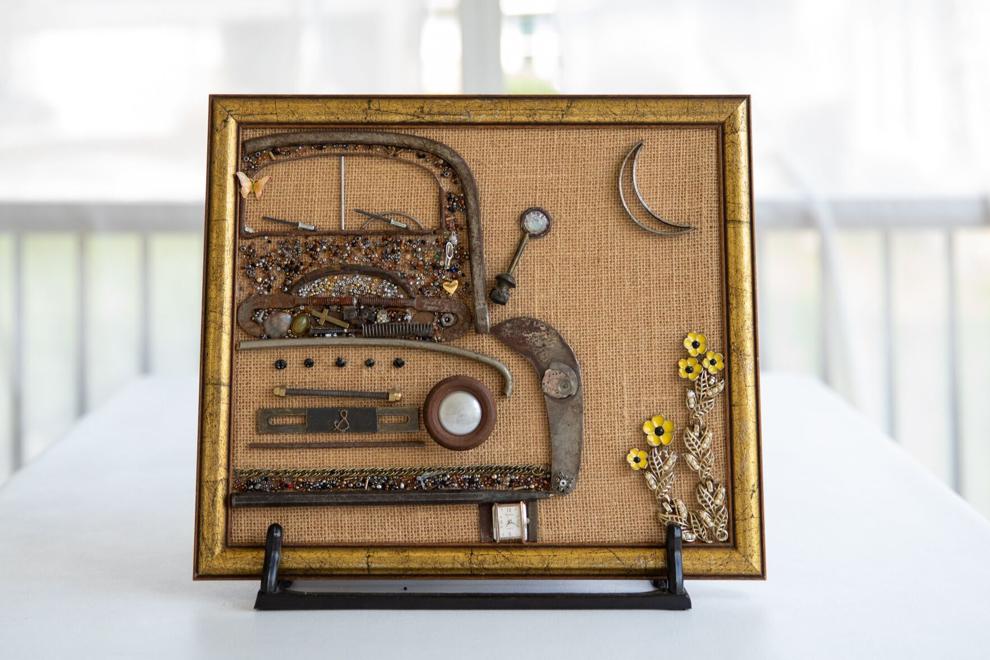 Schoeck incorporates old and broken jewelry in her work, but she buys the sparkling seed beads she uses to create specific colors in the background for her pieces. "Sometimes you just need certain colors," she says. With the addition of beads, she can re-create a dog's brindle coat in browns, grays and blacks, use a bright splash of red for a cardinal, or mix sweet pinks in a ballerina's leotard.
Methods to her madness • Schoeck's home work space covers some territory — she has a spot in the garage where she cuts the wooden substrates for her work and prepares the frames for them. Then she wraps her wooden panels in the same neutral color. "All of them get covered the same. I found that the imperfect burlap makes for a perfect background on all of these," she says.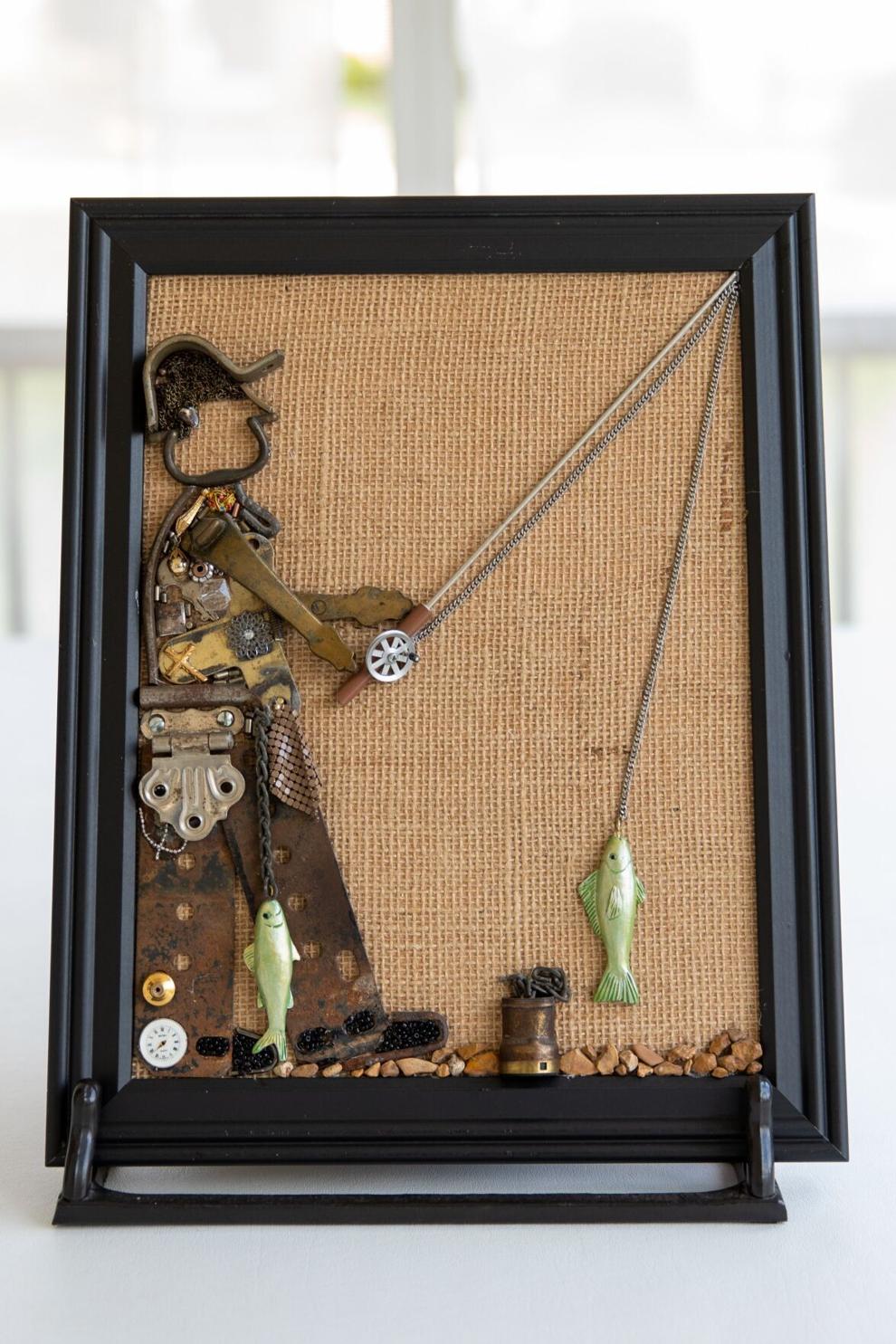 Schoeck fastens her pieces to the prepared substrate with a high-performance adhesive. "Some of the pieces are very light like the beads or jewelry, and some of them are rather heavy," she says. "You cannot pull them off. These items do not fall off."
She organizes her finds and beads in drawers and closets throughout the house. "We raised four boys here so we have a lot of room." She uses plastic organizers to keep her finds organized and accessible. "People might think it's all junk, but it works for me," she says.
She stores her finished art hanging on the walls of the spare bedroom, which was her mother's room for the three years she lived with the Schoeks. The walls are covered.
"My lovely, lovely mother lived with us for three and half years until she passed away in 2016. She and I spent lot of time together. When I retired in December of 2021, I needed to do something. I still enjoy bike riding, but making art in this new phase of my life is what I needed."
Her grandchildren like to go into the picture room to see if they can find the seven symbols she includes in each of her works.
Pieces of the puzzles, pieces of the heart • Every artwork Schoeck makes includes seven found elements that hold personal significance for her. She adds a cross in each piece, a symbol of her faith, and a heart for love. She places a shell in each as a special memory of her mother. She works in a prism to represent the majesty of light and color and a time piece to signify time — and because she collects clocks. She incorporates a signature 'S' as well, and at least one moveable part for whimsy.
Family • Donna and her husband, Tom Schoeck, will celebrate their 46th wedding anniversary in June. They have four grown sons and seven grandchildren. They have one mixed-breed dog, Boomer, who is Schoeck's constant companion.
What she makes • Schoeck makes assemblage art pieces from junk and jewelry parts. She depicts everything from ballerinas to wine bottles in her colorful artworks.
Where to buy • Schoeck sells her creations through her Facebook page (facebook.com/tdschoeck) and at both locations of Encore Consignment Gallery, one in Town and Country, and the other in Kirkwood.
How much • Her artworks range from $120 to $500. She does accept commissions, which she quotes according to the specifications. Email her at [email protected]
[ad_2]

Source link