Meet the Painter Creating Eye-Catching Art On Female Bodies
4 min read
"When you're creating art, all sizes of the canvas, you need them—larger, smaller, bald, sometimes you even need a model who's missing a leg."
(Body Painter and Photo: Pashur, Model: Gracie Williams)
If you were to body paint a nude woman, which would you choose—a model with large breasts or more modest sized? The answer is that it depends, according to Pashur, recipient of the first ever Hall of Fame Award at the Paintopia Body Paint Festival in the UK, and a four-time body paint award winner at Fantasy Fest here at home.
"You have models who have large breasts, those are really good for designs like lingerie where you're trying to sell that aspect of it," he tells us. "When you're creating art, all sizes of the canvas, you need them—larger, smaller, bald, sometimes you even need a model who's missing a leg. I'm always looking for models with smaller breasts for theatrical stuff. And if it's for a magazine cover, or something I'm looking to sell with sex appeal, I'm looking for a model that's larger."
Most of his work, sensual torsos coated in abstract imagery, is in styles such as "Bio-Gothique," delineating what he calls the Dark Mechanics of the female form, and "Aquatica," exploring similar notions in blue and green. His painted-on lingerie is often better than the real thing.
Pashur's bodywork at the annual Fantasy Fest ten-day festival, using everyday people as canvases, matches the style to the persona.
"You paint a larger woman who's older, they're so comfortable in their skin, they don't give a fuck what people think. They have a 'Paint me, I'm here to party!' attitude and it's pretty awesome," he smiles. "Usually when I start painting a person, I crack a few jokes to make them comfortable. It's almost like I'm Conan O'Brien, interviewing them so it distracts them from the fact that they're standing there naked for hours and hours."
Pashur attended Memphis College of Art and focused his studies on illustration and graphic design. He was briefly art director at a planetarium and airport in Nashville, but quit when he began making more money from his side hustle doing illustration work. Inspired by a magazine ad he saw one day with a figure set in a post-apocalyptic landscape, he decided to do something similar. Through a friend, he found a pregnant model and painted her as a cyborg incubating a baby in a glass casing. He called it Motherboard.
Hustling his illustration portfolio to editors often earned him a polite brushoff until he said, "Let me show you this other thing I'm working on." Pashur continues, "And I'd show them my body paint portfolio and they'd be like, 'Oh my god!!' So it really opened doors."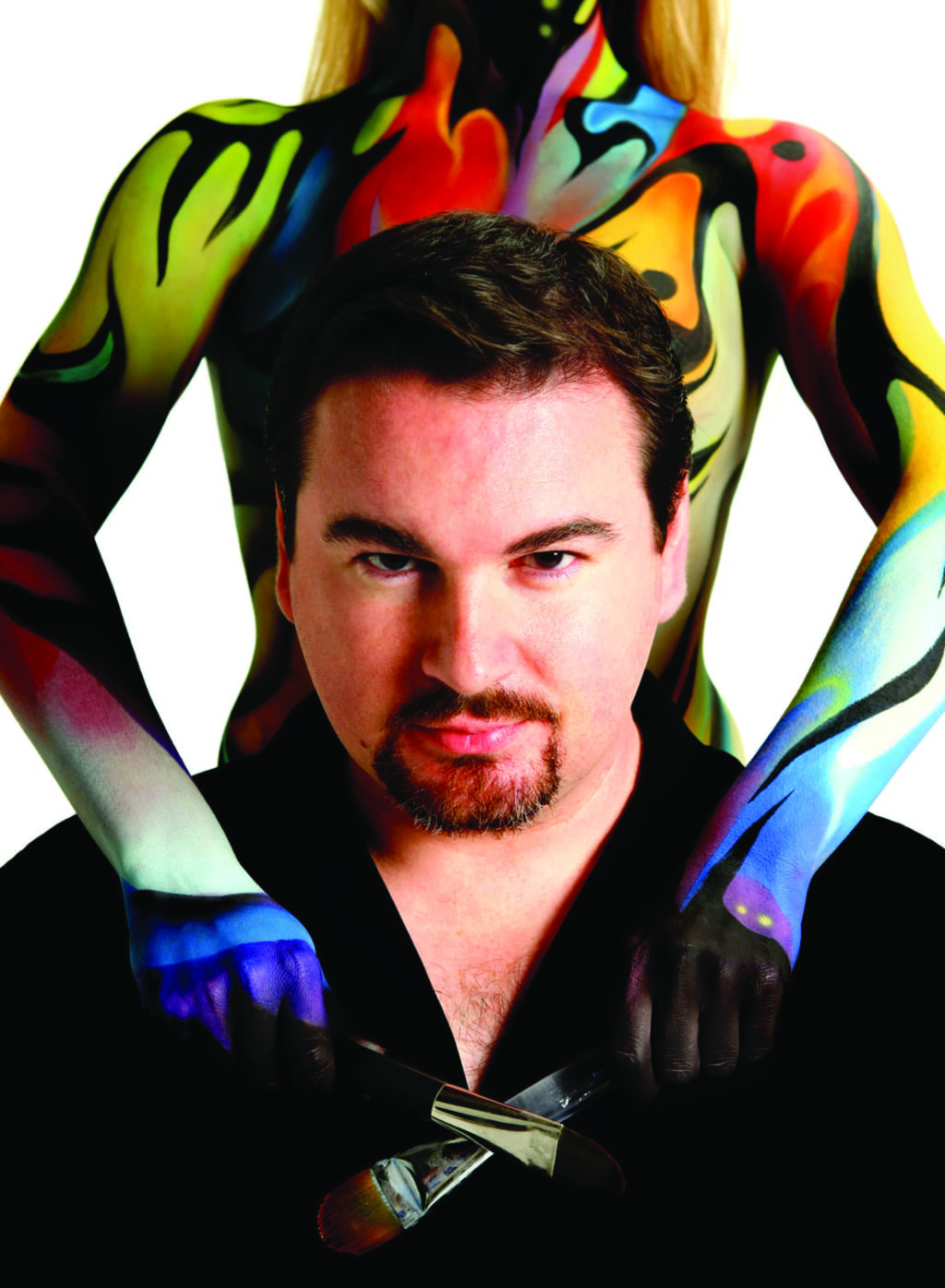 That was back in the '90s. For the next eight years he used his airbrush before eventually applying colors directly with a paintbrush. His studio is littered with myriad hues as well as glitter, pasties and fake blood.
"The amount of supplies I have is insane," he laughs, at home in his current city of choice, Los Angeles. His work has mainly appeared in advertisements, music videos, and magazine covers, including 2015's controversial Five Seconds of Summer cover for Rolling Stone, in which the band is depicted with their lyrics scrawled on their naked bodies. Another resumé standout is the human throne dancers he painted for Nikki Minaj's "Trini Dem Girls" at the 2015 MTV Video Music Awards. "
It's a very sexy art form," Pashur says. "If you want it to be, it can be erotic. It can have a message or a statement. It can be commercialized, if you want to sell a product, like a human billboard. It can be healing to some. In the past I've had models that are stunning, but they'll start crying 'cause they say they feel beautiful while they're painted, and they were already beautiful before the paint ever touched their skin."
It's a rewarding job that has allowed Pashur to get up close and intimate with more beautiful women than you and all of your friends combined. But that's not why he does it. "When you see a great body paint design, you marvel at it and walk away, but you keep turning back and looking at it 'cause the model has moved and it's become a different design. The art has become alive on a canvas that's alive."

Tags: art Body Paint Entertainment magazine article painting Pashur

Maxim Staff